We've really been having a feast of live Cajun/zydeco music in the southeastern Michigan area lately. And this weekend it continues! Michigan based Cracklin plays on Friday, March 11, and Saturday, March 12.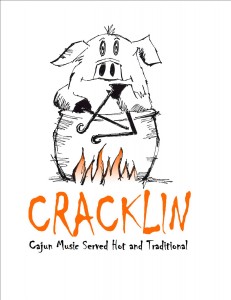 Friday is at Goodnight Gracie in Ann Arbor, at 301 W. Huron St (SW corner of First St.), from 7:30 to 10:00 pm. $5 cover. Cajun food available. Not sure if this is a 21 and over event or not (but probably). More info: 734-623-1443. Also don't think there is a dance floor.
On Saturday, Cracklin appears at the (NOT "teh"!) Black Sheep Tavern in Manchester (Michigan), 115 E. Main St., for two different seatings, 6-8pm and 8-10pm. This is due to the fact that the last time Cracklin played there diners didn't want to leave and so others folks couldn't get in to hear Cracklin! There of course will be a Louisiana inspired menu as well as the regular menu. More info: 734-428-8972.
And, of course, not to be outdone, another local band, Creole du Nord, plays their regular gig at the Passport Restaurant & Lounge, 3776 S. State St. in Ann Arbor, on Sunday, March 13 (yikes! Friday the 13th done come on a Sunday this month!), from 6 to 8 pm. Go get some dinner and even do a little (or a lot of) dancing. Info: 734-222-1111.
(The Passport/Creole du Nord poster above doesn't mention March 13, but CdN are indeed playing at the Passport on the 13th.)
Posted by Garry.
Tags: Ann Arbor, Black Sheep Tavern, Cajun music, Cracklin', Creole du Nord, dancing, Goodnight Gracie, Manchester, Passport Restaurant, zydeco